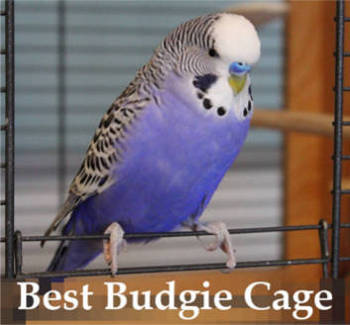 When you decide to adopt budgies as pets, the first thing these exotic parakeets need is the best budgie cage.
Budgies are quite active parrots that exercise and move a lot, every day. Therefore, the budgies cage size is to be large, not smaller than 18*18*30".
It has to provide a lot of space for horizontal and vertical flights. Additionally, it has to offer you proper access to clean the cage, replenish water and food. Quite naturally, sturdy stands, reliable construction, accessories are a must. The top cage for budgies is made of safe, non-toxic and durable metal.
8 Great Cages for Budgies in 2023
So, let me recommend several spacious, top-quality products your clever birds will definitely adore.

1. Prevue Hendrix 3151BLK: Good Budgie Cage with Multiple Accessories
The cage is really roomy. It is 57 inches high, being quite comfortable for medium-size budgies, including a play stand on the top. Thus, your playful birds are always glad and entertained. The door is large and reliable, secured by a heavy-duty lock that is opening by pressing a push button, without any efforts. A latch is also available, ensuring compete parakeets' safety.
The budgie case is easy to maintain thanks to removable grills and drawers. Additionally, the rust-proof, metal construction is sturdy and reliable, equipped with strong, easy-glide casters. The setup is fast and easy, taking about an hour overall.
I also like a lot that multiple accessories are included:
4 metal bowls;
2 perches;
a stand;
two seed guards.
Thus, you get virtually everything your parakeets need within the parcel, and the need to buy additional accessories is not pressing.
However, ¾" wire spaces might be too airy to secure small birds, as the risk of getting through the bars still exists. Additionally, the cage top is not removable, and it's difficult to get the budgies to the play area when they need to use it.
Pros
sturdy construction;
removable grills and drawers;
large, secured door;
reliable castors;
multiple helpful accessories.
Overall Impression
Generally, I recommend the budgerigar cage to accommodate medium-size birds, as it's amazing, feature-rich, safe, easy to maintain. It is furnished with multiple accessories, sturdy and comfortable for the budgies. The small parakeets may try to get through the bars, being at risk.

2. Super Deal Pro: Superb Bird Cages for Budgies
The cages, available in 3 perfect sizes: 53, 61 and 68"-high, are roomy enough to accommodate 2-3 parakeets, at least. Meanwhile, I fix on the golden medium, 61-inch rolling stand and pet house that provides a lot of space to play, eat, fly, sleep and climb. The bird cage size for two parakeets is sufficient, as they can spread the wings inside.
As usual, the budgie cage is metal, being durable, rust-proof and sturdy. However, it stands out by special powder coating, safe and lead-free. The lockable door with heavy-duty, thick metal latch is certainly available.
The grill and the sand tray are removable, enabling easy access. However, the cage stands out by the amazing play top, that features:
a thick wooden perch;
2 metal (stainless steel) bowls;
a reliable ladder.
The third bowl, as well as the second perch, is inside the cage. The perch is 40"-long, thick and natural, made of yellow wood. Additionally, the rolling casters are top-quality, 360-degrees, moving quietly and easy.
As to the assembly process, it's fast and intuitive. A screwdriver and the spare nails are included. Pliers could be necessary to fix some bars. The instructions are not very clear, unfortunately. However, 1-2 hours are sufficient to put the stand together, without any issues.
Pros
spacious and sturdy;
safe and non-toxic;
perfect play top;
natural perches.
Cons
the perches may be too thick for small budgies.
Conclusion
The 61-inch budgie cage by Super Deal is roomy and completely safe for several birds. It features a great play top, thick perches and a heavy-duty, metal, reliable lock; quiet, easy-glide casters.

3. MCage Flight Aviary: A Large Budgie Flight Cage
The removable stand is pretty roomy and convenient. It comes with top-quality casters, movable within the house or outside, durable and well-built. The cage is 32*19*37" by dimensions, providing sufficient space for 2-6 parakeets. It is removable from the durable stand, enabling transportation.
The budgie cage comes with thin bars; standard, medium spacing, suiting small birds. They fly easily through the front door, wide and secure, feeling comfortable both inside the cage and near it. The door features an advanced safety lock (spring loaded latch), efficient to prevent jailbreaks.
The removable stand is pretty intuitive and fast to assemble. Just screw the parts together, and fasten the connections. The complete installation process takes about 30-40 minutes. Quite naturally, it's better to make not alone, but with a friend or a relative. The instructions are pretty clear and complete. Only the print is faint.
Being assembled, the stand is steady and reliable. Thanks to 4*4" feeding doors, removable tray, and grille, the budgie cage is extremely accessible to clean. Actually, these parts don't get stuck and even a dog might occasionally release them, letting the parakeets fly away.
Useful accessories
The cage has a generous set of accessories, including:
4 plastic bowls;
4 wooden perches;
2 metal ladders;
2 platforms.
The cage's unique peculiarities are bottom shelves, convenient to store toys and various useful items. They are removable, letting the budgies get around and entertained easily. The horizontal bars are ladder-like, letting the parakeets climb, so, they prefer flying side to side.
The cage's color is a black vein, perfect for budgies, looking elegant and stylish.
Pros
roomy;
sturdy;
a lot of accessories;
shelves and ladders available;
easy to put together.
Cons
chrome hardware included to the black cage.
Conclusion
I recommend the Mcage 15A budgie case as spacious, reliable and furnished with accessories item. It can accommodate up to 6 parakeets, letting them entertain and feel comfortable inside.

4. Homey Pet PR-1610-BSV: A Versatile Pigeon Breeding Cages Design
When your parakeets are small, this perfect cage is the best for them, as it features the smallest bar spaces. Actually, it fits virtually all bird species, including cockatoo, macaw, canary, finches, sugar gliders and even pigeons. However, it's extremely high, being 54.25" inside.
The cage's design is very special. However, if you wonder, how big should a budgie cage be, it may be your choice, as it really high and spacious. It has no play area on the top, but a metal roof, that is grey, but coated, rust-proof and non-toxic. The roof surface, as well as the bars, is heavy-duty and durable. The bottom, a metal tray is perfectly removable, facilitating cleaning.
Unfortunately, no front door is available, only the feed ones. Thus, if your parakeets like flying and playing, it might be not too comfortable for them. Additionally, there are no bars to hang the toys inside. So, I would say, this cage is intended to other birds, not to parrots or budgies.
Meanwhile, 2 plastic bowls and two perches are included, and the castors are very good and reliable. So, generally, the cage is good, user-friendly, safe and durable. As to the installation, it's intuitive. The manual is clear and useful, and an online video can be found.
Pros
very small bar spaces;
durable and safe;
large enough to accommodate several pets;
convenient to clean.
Conclusion
I recommend the Homey Pet cage for small parakeets. It features extremely small bar gaps, so, they can't escape anyway. The cage is pretty high and it comes with several essential accessories. But the play top is not available, so, I guess, it's not the best for budgies.

5. Prevue 3351W (Park Plaza): A Durable Cage for 2 Budgies
The budgie cage is a basic top-quality product, able to ensure the essential comfort for your small or medium-size parakeets. It is not too compact to be transported in a car, but it's still considered to be small. Meanwhile, the construction is equipped with rubbery casters, easy glade, so, the budgie case can be moved to another room within the house or apartment.
The cage is safe for the birds, sturdy, as it's powder-coated, non-toxic, made of the durable, rust-resistant metal. It can accommodate at least 2 parakeet pets or more, preventing them from being lonely, but letting them entertain each other.
The front door size is sufficient; it is safe and heavy-duty, featuring a reliable lock or latch. However, your pets can easily pass through when they are allowed to fly within the room.
The construction is intuitive to put together. Some complications may happen only with the bottom tray, seed catcher and the roof panel that might get stuck during the installation. Additionally, the instructions are not quite clear, but generally, the budgie case is top-quality, easy to use.
Some perfect accessories: a perch and 2 metal cups are a pleasant bonus to the purchase. The debris tray is also very convenient to remove waste and clean the cage.
3 colors are available: pewter, black and brown, but the pewter one is a bit whitish. Generally, I recommend the budgie cage as it's roomy, easy to clean and put together.
Pros
rubbery, smooth-gliding casters;
a lot of space;
heavy-duty door with reliable lock;
easy to clean and access;
heavy-duty, sturdy design.
Common Representation
The Park Plaza cage by Prevue Company is roomy enough to accommodate 2 birds, easy to put together, move around the house and clean. It is safe, non-toxic and durable, equipped with a reliable lock, a perch, and a debris tray.

6. Mcage Store Bird Cage Wrought Iron: Large and Feature-Rich
The stand is massive, top-quality, sturdy and well-equipped. However, due to wide, 0.66 bar spacing, it fits king size parrots like Cockatoo or Macaw, canaries or finches that are up to 14 inches in length. Smaller ones may try to escape and succeed or hurt their wings or the body.
Meanwhile, it's quite comfortable for several budgies, granting them a lot of freedom and entertainment. It features the essential parts and accessories that all good budgie cages have:
a lockable door with reliable steel latch;
removable trays and grills to enable easy cleaning;
wheel casters;
play top.
The cage includes a wooden perch; 4 metal bowls are available. Meanwhile, 2 stand castors are lockable, enabling the necessary stability or ease of movement within the house or in the patio. The play area is excellent, coming with a ladder, 2 feed bowls, and a perch.
I would only mention that the budgie cage is too lightweight, so, I would doubt if it is made of the strong and safe wrought iron like all the other top-quality products, or another metal, such as aluminum or so.
Additionally, the budgie cage isn't quite intuitive to put it together, and the instructions are neither complete nor clear. However, use the picture and your imagination to assemble it, and it may take only about 20-40 minutes.
Pros
spacious and durable;
furnished with the essential accessories;
perfect play top;
advanced wheel castors.
Cons
wide bar gaps;
not too clear directions.
Conclusion
The cage by Idealchoiceproduct Company is sturdy, spacious and feature-rich. It's perfect for large parakeets, letting them feel comfortable and great. However, small ones may escape through wide bar spaces.
7. VIVOHOME Wrought Iron 72 Inch: Safe and Sturdy Budgie Cage
A huge, portable and well-built cage is a godsend of a provident pet bird owner. Multiple great features and accessories facilitate cleaning. They provide comfortable environment, keeping your feathered friends busy, making them happy. Does this large cage by Vivohome suit small birds like budgies? Of course, it is. It's safe, as the bar spacing is only ½".
It can't be too much space for your lovely pets. In the wild, birds usually live in open landscapes. As to this perfect product, it's the stand that makes it so tall. 72" height includes the hook on the top. The cage itself is 18" x 18" x 26". It might be too small to accommodate a Macaw, a pair of cockatiels or an African-Grey Parrot. Finches or your cherished parakeets find enough place in it.
Features and Accessories
The cage is durable and well-built. Its solid structure doesn't deform. Premium, welded, low-carbon steel is rust-resistant. Black (hammertone) coating makes is look stylish and elegant. Quite naturally, the metallic finish is completely safe, non-toxic.
What's so special about this cage? It comes with:
Top and bottom sliding trays.
Heavy-duty, reliable window latch.
Amazing play area on the top.
Large, rotating swivel casters.
Your lovely birds will certainly love their new cage. Why? They enjoy sitting on any of 3 thick wooden perches. The play area on the top is detachable. It features a metal ladder and a hook to hang various treats or toys. Budgies can jump on the ladder, tease each other, swing and bite their colorful toys.
4 feeding bowls are useful. They are pretty large, top-quality, stainless steel. As to the detachable trays, they consist of PPC thermoplastic. Is it durable? I think metal would last longer. But the construction and design itself are great! You don't have to disturb your pet birds to clean the cage, supply food and water.
Pros
durable and sturdy;
safe for small birds;
feature-rich;
great rolling stand;
easy-to-assemble.
Cons
fits only small and medium-sized birds;
flimsy, plastic bottom tray.
Conclusion
The cage by Vivohome is sturdy and user-friendly. It includes a lot of great accessories. Play area, perches and toys make your budgies' life brighter and more fun. Jumping and entertaining, in a clean environment, they are healthy and happy.
8. Yaheetech 68.5-inch: Spacious Cage for Small and Mid-size Parrot Birds
Are your feathered friends active and lightsome? Even if they are as small as parakeets, they need a lot of space. Inside a cage, they may play, exercise, climb up to the top. They might be just sitting on their perches, grilling you, your guests or other pets. If it doesn't take a lot of time, it's not tight.
Healthy budgies are to be always in motion. They chirp, explore their space and entertain. Large, feature-rich cage by Yaheetech offers them multiple opportunities. It's heavy-duty, birds-friendly, easy to move and clean.
Beneficial Accessories and Details
Thick metal wire and strong construction are reliable. It makes the cage secure and comfortable. It's practical, standing out by:
easy-glide, industrial swivel casters;
solid wrought iron frame;
tall and advanced playground on the top;
handy slide-out tray on the bottom;
secure crescent lock;
reliable seed guard.
Thick, 0.13-inch wire is sturdy and wear-resistant. It doesn't rust due to the premium powder coating. This hammered paint is non-toxic and completely safe. Do you want to maintain the cage easier? Sliding tray at the bottom accumulates all dropping and meal remains. It comes with a robust handle that streamlines cleaning. Additionally, a seed guard around it keeps seeds from falling on the floor.
Top of the tray is similar by design. The tray slides out and your budgies can reach the playground. They enjoy freedom and bright illumination. Generally, if you buy this premium cage, you'd need very few optional accessories.
Two long, polished wooden perches and 5 durable, easy-to-clean bowls are available. Consisting of stainless steel, they are safe and long-lasting. The cage includes also an ascent ladder and a strong bungee rope. Add only a couple of toys, and they keep your lovely budgies active and entertained.
Pros
spacious;
reliable;
heavy-duty;
feature-rich;
easy to clean and move.
Cons
6 bar spacing would be big for juveniles and chicks;
might be bulky to fit a small room or limited space.
Conclusion
68.5-inch cage by Yaheetech is spacious and heavy-duty. It's feature-rich, coming with great, reliable accessories. Your lovely parakeets feel safe and easy inside. Additionally, the cage is mad handy to clean or move around. It's strong, durable and secure.

AWESOME Buyer's Guide
Going to adopt one or several parakeets, you are to select a good stand for your pets at once. The better budgie cage is:
roomy;
safe;
accessible to clean;
feature-rich;
furnished with several essential accessories, such as perches, ladders or feed bowls.
Quite naturally, you are to consider the size and the species of your lovely birds. The answer to the question "What size cage does a parakeet need?" depends on the number and the nature of your pet budgies. Commonly, the internal dimensions can't be less than 18*18 inches, the height may be different.
When your parakeets like flying around the room, a large door and a well-equipped play top are desirable.
Offers of manufacturers of high-quality cages for birds can be found here.
Meanwhile, before buying a cage, it's better to understand the budgies, their behavior, interaction and needs.
FAQ
Is It Better to Adopt One Budgie or Several?
Purchasing a separate budgie cage for each parakeet or owing a single bird, you are lucky, as it would be easier to train it, keep track of the budgie flight and it makes less mess and noise. On the other hand, the budgie may feel lonely, avoiding exhibiting natural behavior, and you would need to spend more time with your pet.
Should I Cover My Budgies Cage at Night?
It's better to do it, as your budgie is to sleep 10-12 hours/night, avoiding bothering lights. At dark, your parakeet won't sing joyfully at night. However, it's not a must, and if you miss a weekend, it's ok.
How Often to Clean the Budgie Cage?
Clean the cage daily, including the bars, change the bottom paper. Use a cloth with water and soap to perform this task.
Which Budgie Food is Preferable?
The basis of the parakeet diet is the seed mix, with some fresh vegetables and fruits, minerals and cuttlebones. Change the water every day, making sure it's always clean. Suggestions of leading manufacturers of food for birds can be view here.
Great bird food suggestions can be found here.
Now, let me share some budgie cage setup ideas with you.
The cage is to be placed on furniture or elevated stands. The room temperature is to be 68-78° F. Apart from the essential accessories, the budgie cage may incorporate a concrete, a flexible and a wooden perch. Additionally, toys and fun stuff, like a shred thing, basketball toy, a mirror, a ladder, a hammock swing, etc. would be desirable. Click here to view the best bird toys. Immediately find a really huge selection!