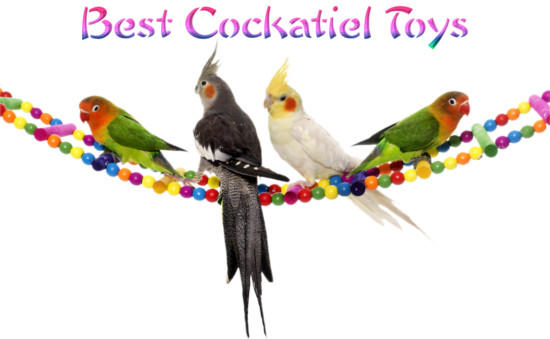 As a devoted bird owner, you surely strive to provide your little friend with the best things: the best food, the best cage and, of course, the best cockatiel toys. Quality leisure time is very important for cockatiels.
These birds love to socialize, be active and play around. Naturally, you cannot keep your bird company all the time, but you can get some cockatiel toys for entertainment and cage furnishing. If you are new to this and don't know what to look for, here is some information to help you get started.
What do cockatiels like to play with?
Cockatiels are very playful birds. They love rattling, jingling, shaking and dangling things. Besides, they need to exercise their beaks by chewing and tearing on different objects, such as paper, thin cardboard, wood or special toys. It's really very easy to entertain a cockatiel, but remember these birds get bored just as easily as they get excited. Therefore, you should rotate toys frequently. You can hang your cockatiel's favorite toys in different places to entice him and bring his playfulness back.
Top Toys for Cockatiels in 2019
The Wesco bird kabob doubles as a wooden perch, on which cockatiels can park themselves to enjoy chewing on the wood discs. The swing is mostly natural-looking with several bright-colored accents. Discs are made of pithy wood, which is easy on cockatiels' beaks.
The swing is quite large and has enough room for one cockatiel. Wooden parts are held together by a rope, which is used to tie a toy to the cage.
Pros
2 in 1: a swing and a chewing toy.
Natural look with colorful elements.
Quite spacious for a cockatiel to perch on.
Cons
Wooden discs are very easy to destroy.
A rope can be potentially dangerous for a bird.
Overall Impression
The Wesco Kabob swing is a nice alternative to a regular kabob chewing toy. This one doubles as a swing unless a cockatiel chews through the rope. Since ropes are potential hazards for small birds, this toy should be used under supervision.
The Petsvv bungee rope is a fun alternative to a regular perch. It is made of cotton fiber woven around a semi-rigid wire. The wire is flexible enough to be bent in any position by a human but rigid enough to hold its shape under the weight of a cockatiel. So you can use your imagination and try different shapes to challenge your pet cockatiel and stimulate his senses.
Bungee ropes are not only fun and entertaining; they help birds develop balancing skills. This perch attaches to the case via a pear hook and has a small bell on the other end for your cockatiel's additional excitement.
Pros
Made of natural cotton rope.
Does not have any loose parts that might be potentially hazardous.
Colorful and enticing.
Provides sufficient exercise on balance and coordination.
Cons
If your cockatiel cage is on the small side, this toy might be too bulky for it.
The rope is not tightly woven. Under sharp cockatiel's nails, it will become fluffy and loose with time.
Common Representation
This spiral bungee rope is a great alternative to standard perches. It helps pet birds develop physically and improve their coordination. Although this is not a chewing toy, cockatiels can easily destroy it if there is nothing else they can chew on.
This flying trapeze is designed to brighten up a cockatiel's everyday routine by offering a new type of activity. This is a swing that consists of a natural seagrass platform hanging by four colorful plastic chains. For additional entertainment, this trapeze is decorated with multi-colored dangling toys.
A meshed platform provides sufficient exercise for cockatiel's feet. It is moderately soft and can sag a little under a bird's weight, offering a comfy environment for both playing and dozing. The swing is large enough for an average-sized pet cockatiel to perch on it and still have room for moving and playing with attached toys.
Pros
Large size.
An abundance of bright, attractive elements to play with.
Great for cockatiels to perch on.
Meshed seagrass platform helps birds exercise their feet.
Cons
Devoted chewers will destroy the platform very quickly.
Smaller birds can get their nails stuck in the seagrass.
General Representation
The Super Bird Creations trapeze is great entertainment for pet birds who love to swing. It looks very attractive and comes with toys that cockatiels can play with. The platform is easy to destroy, so If you want it to last longer, you should use it together with some other shreddable toys.
This toy is great for chewing, pecking on and shredding. It consists of multiple colorful wooden blocks connected together by a metal chain. Each block has colorful sisal and cotton ropes run through them and tied in knots, which can be fun for cockatiels to untie.
It is quite large and challenging. It stimulates a bird's brain activity and encourages it to use creativity. Untying knots is one of the favorite cockatiels' activities, and this toy has plenty of them, so it can completely satisfy the urge. Besides, it can make a great cage decoration. The toy attaches to the cage with a pear hook, which in no way can be opened by a cockatiel.
Pros
The optimal size for a pet cockatiel.
Bright-colored and visually enticing.
Has plenty of knots for birds to untie.
Cons
The paint will come off and leave stains if the toy gets wet.
Some of the knots (those made of sisal) are too easy to destroy.
Common Presentation
The Paradise chewing toy provides exercise for cockatiels' beaks, feet, and brains. It is colorful and attention-grabbing, but colors tend to come off, especially if contact with water. This is a destroyable toy, but with mellow cockatiels, it can last for quite a long time.
5. Wesco Pet Kabob – A Quick Chewing Toy for Cockatiels
This pet kabob is made of seven chunks of pithy wood, which is perfect for cockatiels to chew on. The wood is very soft and easy to shred. It won't be too hard on a cockatiel's beak, but at the same time will provide enough exercise.
The Wesco Kabob has a natural look and does not contain paint. This is a shreddable toy, and depending on the activity of your pet can last up to a month. In any case, it is advisable to use it in a combination with other types of toys to diversify a bird's activity.
Pros
Made of pithy wood, easy for cockatiels to shred.
Optimal size for pet cockatiels.
Cons
Plain, unattractive look.
Does not last long.
A string this toy hangs on can be hazardous for small pet birds.
Overall Presentation
If you are looking for a toy to help your pet cockatiel exercise his beak, Wesco Pet Kabob is a great choice. However, it is a poor cage decoration and won't last very long.
A Buyer's Guide to Finding the Best Cockatiel Toys
Your bird deserves only the best things and toys are not an exception. For a cockatiel a toy means something he can chew on, therefore some parts of it will inevitably get into his digestive tract.
It is very important that all the objects that go into a pet bird cage are made of safe materials and are free of sharp details or small part that could be choked on.
If the toy has colors, you should make sure that the dyes are food-grade and non-toxic.
Plastic parts should be BPA-free.
Responsible sellers usually provide all the information regarding the content of their pet products.
Interesting and useful information
Aside from safety aspects, you should consider the following when choosing a toy for your pet cockatiel:
Size of the toy. Most manufacturers indicate what type of birds their products are suitable for. However, you should always keep your cockatiel's needs in mind when choosing a toy. If your pet is shy, he might be afraid of large and colorful objects. Another factor you should keep in mind is the size of the cage and cage doors.
How long a toy can last. If your cockatiel is very active and likes chewing a lot, you should look for toys that are hard to demolish. Good toys for cockatiels are usually meant to last for several weeks. Alternatively, you can buy a bunch of cheap shreddable toys for your pet's enjoyment.
Cockatiels are enticed by bright, multi-colored things. They also like dangling and rattling parts of toys, such as bells, beads, garlands, etc. Generally, the more diverse the toy is, the longer it will have a cockatiel's attention.
Are there any easy homemade bird toys I can give to my cockatiel?
If you don't want to spend a lot of money on cockatiel toys, you can actually entertain your bird with simple things that can be found in any home. However, you should make sure these things are non-toxic and don't have any small sharp particles that a cockatiel could swallow. You can make twig or paper balls, leather strips, bead strings and a variety of other simple toys to make your cockatiel excited and happy.
We have selected the best cockatiel toys, which your pet might find rather fun and exciting. It was very hard to select these few since the variety of choices is truly immense. If you don't feel like studying it all, you can just choose one of the options presented here and your cockatiel will surely love it.
Conclusion
Today we have reviewed top best cockatiel toys that belong to three different groups: chewing toys, swings and perches. There are many more kinds of fun pet toys and cockatiel cage accessories on the market and you will surely find those that will make your feathery friend happy. And he will be truly happy and cheerful!