As a bird owner you should know how important it is to find the best cockatiel cage for your feathery pets. Cockatiels are wonderful companions; they are very entertaining and can brighten up your everyday life. A proper home is one of the basic things they need to stay happy and satisfied. Unlike larger parrots, cockatiels spend most of their time in cages. Therefore, a cockatiel cage needs to be spacious, comfortable and safe. Owners, in their turn, would appreciate a cage that is easy to clean, rather lightweight, easily accessible, durable and more or less visually attractive. Most of you probably know all these things intuitively, so let's discuss some more important and less obvious aspects you need to consider when buying a cockatiel bird cage.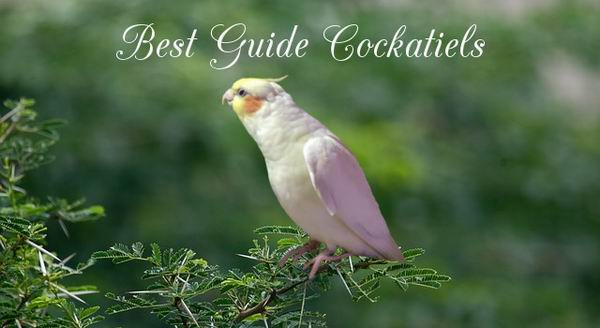 Top Cockatiel Cage in 2019
Product
Cage Dimensions (L x W x H)
Bar Spacing
Parts Included
Mcage Large Wrought Iron
(Editor's Choice)
32" x 19" x 37"
½"
2 platforms, 2 ladders, 4 feeders, 4 perches

Check Price

Yaheetech 59" Rolling Bird Cage
23.2" x 23.2" x 59.1"
0.67"
2 perches, 2 feeders

Check Price

Vision Bird Cage Model L12
29.5" x 15" x 36.5"
⅝"
4 perches, 2 feeders

Check Price

Yaheetech Pet Bird Cage Play Top
18" x 18" x 35.5"
7/10"
2 perch, 2 feeders, a ladder and 2 bowls

Check Price

Prevue Hendryx Flight Cage
26" x 14" x 36"
½"
4 perches, 2 feeders

Check Price

HQ BirdsComfort
(Editor's Choice)
60''x 22" x 17"
3/5"
3 feeder, 2 perches,
3 stainless dishes

Check Price
This is a fairly large, durable cockatiel cage made of wrought iron with non-toxic epoxy coating. It is 32 inches long and 37 inches high. The cage can comfortably accommodate one or two medium-sized cockatiels. This cockatiel birdcage comes with a detachable 27-inch-tall stand. It rests on four casters, so you can move the cage effortlessly even on carpets. A wire shelf at the bottom of the stand can be used to keep bird food, toys or cage cleaning supplies on.
A large front door offers unrestricted access to all parts of the cockatiel cage. It is equipped with a safe metal lock to prevent the inmates from breaking out. To make cleaning even easier, the manufacturer has designed the cage with a slide-out bottom part (including a grille and a tray). In addition, the cockatiel cage is equipped with four feeding doors through which you can fill the bowls without giving the birds a chance to escape.
Interesting Features
This cockatiel cage comes with two shelves, two ladders, four wooden perches and four feeders. It seems to have all the basic facilities your pet cockatiel might need for comfortable and enjoyable pastime.
Pros
Decent size.
Optimal bar spacing (½- inch wide).
Sturdy and durable.
The bottom tray and grille slide out to provide easier maintenance.
Comes with a stand and a storage shelf.
Easy to move from one place to another.
Has a large lockable front door.
Ladders, platforms, perches, and feeders are included in the package.
Easy to assemble.
Cons
Poorly designed packaging may result in some parts being bent or scratched.
Verdict
Mcage Flight Cage can make a comfortable home for one or two medium-sized cockatiels. It includes everything your birds might need. You can keep it on the stand it comes with or in any other place you would prefer. The cage has minor safety issues, but with proper handling they can be minimized.
2. HQ BirdsComfort – Stylish Cockatiel Cage with Cart Stand
The cage looks quite attractive, being a bit special by design. Meanwhile, it meets all the reliable cockatiel cage requirements. The cage is only 17 inches deep but quite high and wide.
The 5/9" bar spacing is only a bit larger than the golden medium (0.5-inch). But the bars themselves are strong and durable, 1/9" thick. Therefore, I think, the cage suits not the smallest, but medium-size parrots: budgies, cockatiels, parakeets. Smaller sugar gliders, canaries or finches would feel comfortable inside, if they are not at risk to escape.
The cockatiel cage's unique peculiarity is openable top than enable the birds to fly to the play area easily. The color is also unique: dark green, pleasant for your pets. As to the material, it's common, durable, wrought iron, with a safe, non-toxic finish. Baked powder coating is beneficial. Additionally, as the stand's weight is a bit heavier than of similar products, it's pretty sturdy and robust.
Useful accessories
The cage for a cockatiel is equipped with the essential accessories:
2 thick, pine perches;
a storage bin;
3 steel bowls;
slide-out tray and grate.
The cage is easy to clean through any of 3 available feeding doors, and the front door is large, coming with a reliable steel latch. The castors are top-quality, easy-glide, helpful to move the stand around the house.
Pros
solid metal frame and bars;
openable top;
pleasant dark green color;
rounded top corners.
Conclusion
I highly recommend the budgie cage as attractive by design, solid and feature-rich item. It is made of true, reliable metal, easy to move and clean, safe and comfortable for your pets.
3. Yaheetech 59″ Open Playtop – Most Elegant Model Among Cockatiel Bird Cages with Stands
This is a tall, finely made cage designed to accommodate one cockatiel (possibly two if they spend a lot of time outside). Like most of the cages in its class, this one is made of the premium iron frame. The cage measures 23,2 inches in length and width and 23,2 inches in height. It comes with a detachable base stand on casters. When fully assembled, the construction is 59 inches tall.
If your cockatiel likes spending time outside the cage, it might appreciate an opening roof top with a perch. There are also two perches inside this cockatiel cage. Food and water can be served in two stainless steel bowls, attached to small feeder doors. Only one set of dishes implies that the cage is indeed designed for one cockatiel. If you wish to keep more than one bird in it, you will have to purchase additional bowls.
The cage has a large swing-out front door with a smaller tilting door incorporated into it. Additionally, the bottom grille is detachable and the bottom tray slides out. All of that makes this cockatiel cage very easy to clean and furnish.
Useful Features
You can choose to use the cage without a stand and put it on a table or any other suitable surface. However, if you need mobility, you will definitely benefit from using a stand with four swiveling casters that allow it to be easily moved in any direction. Besides, it has a bottom shelf, where you can keep your pet supplies.
Pros
Elegant design.
Detachable stand with four swiveling casters and a grill shelf.
Opening top with a perch for your cockatiel to enjoy the unrestricted view.
Large front door with a double latch for increased security.
A slide-out tray and a removable bottom grille ensure hassle-free cleaning.
The cockatiel cage has both vertical and horizontal bars so that the cockatiel can satisfy its natural climbing instinct.
Cons
No seed catcher.
Assembly is quite challenging and requires some physical strengths.
The cage just sits on the stand without any attachment mechanism, so there is always a chance it might tip over.
Verdict
Yaheetech Bird Cage is designed in an elegant style; its curved legs and rounded top give it a chic look. It's quite tall and has an additional perch on the top, where a cockatiel can sit while outside the cage. The cage is not particularly stable since the casters move very easily and the main part is not attached to the base. However, under light use, it can serve its purpose quite well.
This is a versatile cage that can make a home for different kinds of small and medium-sized birds, including cockatiels. The cage measures 36.5 inches in height, 29.5 inches in length and 15 inches in width. With these dimensions, it is just the right size for one or two cockatiels. The spacing between bars measures ⅝ of an inch, which is quite acceptable in cockatiel cages.
Vision Bird Cage is made of metal with plastic elements. Its white and silver design looks rather elegant and unobtrusive. A transparent base adds airiness to the overall look of the cockatiel cage. Speaking of the base, it is significantly deeper than most of the standard cage bases. It is designed in such a way that all the mess cockatiels tend to make stays inside the cage.
Besides, the feeders are located inside the base, so food particles will not fly all over the cage and eventually lend on your floor and furniture. With a transparent base, you can always see when it's time to clean the cage. At the same time, if the base gets too messy it will make the bird's home look untidy, so you will probably want to clean it more often.
Interesting Opportunities
The cage has two large front doors that tilt inwards and outwards. When open inwards the doors serve as platforms on which cockatiels can sit (of course, if you are not afraid they might fly out). You can also open each door separately if you don't want to offer your bird a chance to escape.
Another interesting feature of this cockatiel cage is its non-conventional wavy perches with different diameters. They are designed to imitate the shape of twigs that can be found in the nature. In such a way cockatiels can exercise their feet as they perch.
Pros
Spacious enough for two cockatiels.
Elegant design.
Deep base designed to keep all the mess inside.
Ergonomic perches help improve grip and prevent health problems in cockatiels.
A heavy base prevents the cockatiel cage from tipping over.
Doors can serve as platforms for cockatiels to sit on.
Cons
Quite hard to clean (you have to remove the top part to clean the base and the bottom part).
Rather difficult to assemble.
The doors do not open outward at a 90 degree angle. In case your cockatiel needs a platform to take wing, this design won't work for him.
Conclusion
Vision Bird Cage L12 is modern-looking, quite spacious and has several design features, some of which can be considered improvements, while others are more of an inconvenience. Nevertheless, this cockatiel cage is quite suitable for one bird (or two, as long as you let them out to fly around regularly).
This is a large single-piece cockatiel cage for large and medium-sized birds. The whole construction is 62 inches tall, while the cage itself is 18 by 18 inches on the perimeter and 35 inches tall. Although lengthwise it is not perfect for a cockatiel, the fact that it is designed with a playing area at the top makes it quite an acceptable home for your bird. It has both vertical and horizontal bars with approximately 7/10-inch spacing. This iron cockatiel birdcage with powder coating is available in three colors: black, green, and white.
As we have already mentioned, this cockatiel cage has an open playing area with a ladder, a wooden perch and two feeder bowls for your bird to enjoy its time outside the cage. Inside there is also a long wooden perch and two stainless steel bowls. The birds can be let out through a large front door that at other times safely locks on a barrel bolt.
Useful Information
Thanks to the removable slide-out tray and grille the cage is rather easy to clean. You don't have to take the whole thing apart – all you need is to take out the sliding elements and make sure your cockatiels don't escape in the meantime. You might also appreciate a seed catcher around the cage that prevents seeds, feather, and other litter from getting scattered all over your floors.
The whole construction rests on four heavy-duty casters. They are noiseless and rotate 360 degrees so that you can easily move the cage without troubling your pets.
Pros
Comes with a slide-out tray and grille for easy cleaning.
The cage is quite large.
Playing area on the top of the cage.
Equipped with a seed catcher.
Easy access to feeding bowls through feeder doors.
A large front door with a secure locking mechanism.
Heavy-duty industrial casters.
Stainless steel bowls are hygienic and easy to clean.
Cons
The cage is not long enough for a cockatiel to spend most of its time inside.
Feeding cups are too deep for cockatiels to reach in and pick up food unless the cups are almost full.
The stand is not detachable.
Verdict
Although Yaheetech Pet Bird Cage is rather massive, it does not have that much interior space. It is rather high, but not long enough for a cockatiel to spread his wings and fly around. However, this downside is compensated by the playing area on the top of the cage. Black color and rough lines give it an industrial look, which might not fit in with some interiors.
This is a tall medium-sized cage suitable for one grown-up cockatiel. It is designed to stand on a table or any other appropriate flat surface. The cage is made of metal wires and has a plastic tray underneath, which clips to the bottom grille and can be removed if needed.
The access into the cage is provided by 4 doors on the front. There are two small feeding doors, through which you can put food and water into the plastic cups that come with the cage. Through the two larger doors you can take your birds out or reach in to make rearrangements inside the cage.
The top of the cockatiel cage opens as well, offering you even better access to its inmates.
Interesting Information
As for the interior of the cage, it is rather simple. The whole entourage consists of four long wooden perches, positioned at different heights. Usually, cockatiels need more entertainment so you will have to buy additional fixtures separately. There is plenty of room where you can attach them platforms, ladders, toys and other things for your bird's leisure.
Pros
Two large doors provide easy access inside the cage.
Removable top.
Detachable bottom tray.
Includes 4 wooden perches and 2 feeding cups.
Secure locking mechanism.
Easy to assemble.
Cage is tall, though not particularly long, which is quite satisfactory for one cockatiel.
Cons
The cage can accommodate only one cockatiel.
To clean the cage, you will have to disassemble the whole bottom part.
The cage is too heavy to be hanged and does not have a stand, therefore, you will have to dedicate a piece of furniture to keep the cage on.
Verdict
Prevue Hendryx Flight Cage is designed for small birds, such as parakeets, finches, lovebirds, etc. Grown-up cockatiels might find it not spacious enough, although its dimensions are quite acceptable for one cockatiel. If you want to adopt more than one bird to keep each other company, you should consider buying a larger cockatiel cage. Other than that, this cage is rather decent. It is simple, sturdy and functional.
Top Bird Cages for Cockatiels – Buyer's Guide
There are several general rules you should follow when choosing a cage for your cockatiel. Some of them have been already discussed in the introduction section. Now let's elaborate on the topic and find out what other things about cockatiel cages need to be considered.
Quality of metal
The quality of a cockatiel cage largely depends on the quality of metal used to build it. Both medium-priced and cheap bird cages for cockatiels are made of metal wires and spray-painted in different colors. Therefore, you should pay attention to the thickness and rigidness of the material, as well as the stability of paint. If the metal is too thin it will bend easily or even break. That might result in injuries or your cockatiel escaping from the cage.
Easy access to the birds. You should look for cages with large doors that allow you to reach in and fetch your bird from any corner. Cockatiel cages with the opening top are great too.
How Big Does a Cockatiel Cage Need to Be?
Although cockatiels are small in size, they are usually rather active. They like flying back and forth and messing around in their cages. That implies that a cockatiel cage should be as large as possible. Unfortunately, we all have limited spaces, so we need to find compromises. As a general rule, the length of a cockatiel cage is more important than its height. So you should always prefer a cage that is longer over the one that is taller.
What size should a cockatiel's cage be?
The minimal dimensions for a cockatiel cage in which a bird would feel more or less comfortable are 24" by 18" by 24" (length, width, height). If you have more than one cockatiel, then you should multiply these numbers at least by 1.5 per each bird. No matter how large the cockatiel house is, it should have no more than ¾-inch of spacing between bars.
What should a cockatiel cage be made of?
Metal cages are the most suitable for cockatiels. Make sure you choose a cockatiel cage that is made of high-quality stainless steel or has a non-toxic paint coating. You should avoid wooden cages, no matter how pretty they might look. Cockatiels like to chew on different things so they can nibble through cage bars. Moreover, wood particles might get into their stomachs and cause harm.
These are the most important things you need to know about cockatiel cages. With this information in mind, we have picked five products, each of which can make a great home for your birds.
Hygiene
Taking care of your cockatiel's hygiene is almost as important as feeding it. A cage that is easy to clean will surely make your life easier. Cockatiel cages with slide-out trays and bottom grilles are usually much easier to take care of than those in which all parts are attached to each other.
It is important to make sure that the floor of the cage does not touch with the content of the tray, where food leftovers, excrements and other litter accumulates. Feeding bowls should not be located too close to the bottom of the cage. Ideally, they should have little covers to prevent excrements from mixing with food. Placement options. You cockatiel cage can be hanged, put on a table (or similar surface) or it can rest on a stand. Either of these placement options is acceptable, your choice depends on your preferences.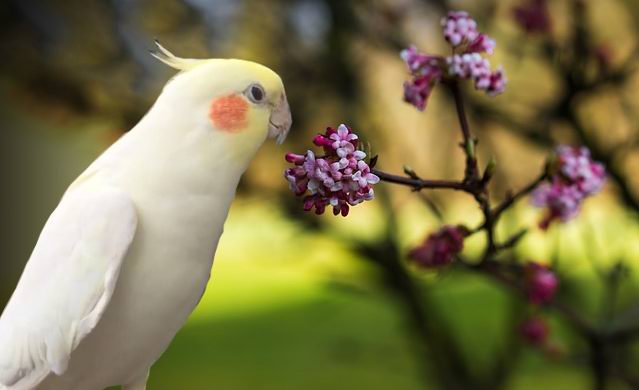 Toys for your cockatiels
It is very convenient when a cockatiel cage comes with perches, ladders, swings and other elements for your bird's entertainment. If the cage you have chosen for your cockatiel does not include all the fun stuff, this should not divert you from getting it. You can buy all the furnishing separately.
What is a safe cockatiel cage like?
Probably the most important choice factor is mentioned in the last conclusion. It should have secure locks to prevent the cockatiels from flying out without your supervision (especially if you have a cat or a dog in the house). It should also be quite stable (a falling cage can scare the birds, and their emotional safety is very important too). Finally, the cage should not have any sharp edges, cracks or loose wires.
Once you get a cage you should make sure your cockatiel really likes it. Birds can demonstrate their appreciation by being very active, social and loud while inside the cage. When the playtime is over the bird will happily return to its cage. If you notice your cockatiel laying eggs on the bottom of the cage, that means she is very comfortable in her new home.
What birds can live with a cockatiel?
Ideally, birds of different species should not live in the same cage. It is highly undesirable to introduce a new bird to the already occupied cage. Your birds can enjoy each other's company during playtime outside their cages. If you really need to keep your cockatiel and its companion in one cage, this should be a brand new cage, which none of the birds has claimed before. The general advice here would be that the inmates should be more or less the same in size. Scarlet-chested, Bourke, and princess parrots are the most suitable companions for cockatiels.
Is building a cockatiel cage a good idea?
Cockatiel cages are designed and manufactured with many factors in mind, from safety to aesthetics. Making a cage is not as easy as it might seem. Nevertheless, if you are good at building things and are willing to invest a fair amount of time and effort in the job, you can make a home for your cockatiel by yourself.
Finally conclusion
Providing your pet cockatiel with a lovely home is one of the most important things you can do for it. Although it might seem that cockatiel cages are pretty much the same, your pet bird will surely see the difference. That's why it is so important to choose a good one. The cages we have listed here are rather popular and in spite of some downsides, each of them is worthy of your attention. If you feel like you need to look more, you can use our advice to guide you through the array of options. Your perfect cockatiel cage is somewhere out there waiting for you!